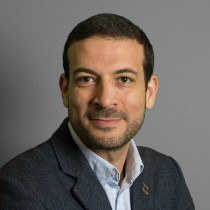 Karim Elgendy is an urban sustainability and climate consultant based in London, and a non-resident fellow at the Middle East Institute. His areas of expertise include developing sustainable and resilient cities and neighborhoods, climate policy analysis, energy transition, and assessing the impact of policy, economics, urbanization, planning, urban metabolism and circularity, and urban systems on sustainability and resilience.
His current work focuses on the Middle East and North Africa region, especially around the Eastern Mediterranean and the Gulf, but his two decades of experience spans Europe, North America, and Sub-Saharan Africa.
Karim is also an Associate at Dar, an Associate Fellow at Chatham House (The Royal Institute for International Affairs), and the Founder and Coordinator of Carboun, an advocacy initiative promoting sustainability in the cities of the Middle East and North Africa through research and communication.
In addition to being a regular public speaker, lecturer, and commentator, Karim is regularly interviewed and cited by TV, print and digital media including outlets such as the Financial Times, The New York Times, BBC, Reuters, CNN, Aljazeera, Asharq Bloomberg, and Sky News Arabia. His work is also cited in academic publications.
Karim is the recipient of the 2013 Global Green Building Entrepreneurship Award by the World Green Building Council and is a chartered member of the Royal Institute of British Architects (RIBA). He has a master's degree from the University of California, Berkeley and is an accredited professional under several sustainability certification systems including LEED, BREEAM, EcoDistricts, and GSAS.
https://www.mei.edu/profile/karim-elgendy
Publications: