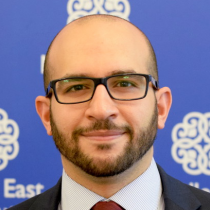 Ibrahim Al-Assil is a Middle East analyst and commentator. He is a Senior Fellow at the Middle East Institute in Washington, D.C. His work focuses on U.S. foreign policy and the Middle East, regional dynamics and cooperation, and political economy. Al-Assil is the founder and managing partner of Dynamics Advisory, a consulting firm that provides political risk assessment.
Between 2012 and 2015, Al-Assil served as a fellow with the Orient Research Centre (ORC) in Dubai, and he continued to be a nonresident senior fellow with ORC until 2020. Between 2016 and 2020, Al-Assil led a 'Track II Strategic Dialogue' focusing on U.S. and GCC relations. The dialogue had eight rounds and included different think-tanks, experts, former government officials from Washington D.C. and the gulf countries.
In 2018-2019, Al-Assil finished a fellowship at the Center for Public Leadership at Harvard Kennedy School. He currently serves on the board of the Harvard Arab Alumni Association.
Al-Assil has been published and quoted in a variety of media outlets, including The Washington Post, The Guardian, The Atlantic, Time, BBC, and NPR. He appears regularly on TV stations, such as SkyNews and AlHurra.
He is the founder, host, and producer of Podcast AlAwsat.
Education
Master in Public Administration, Harvard Kennedy School.
MBA, University of Essex, UK.
Languages
Arabic
Countries of Expertise
Syria, Levant, Gulf
Issues of Expertise
Regional Cooperation, Track II Negotiations, Counterterrorism, Political Economy, Conflict Resolution.
Follow Ibrahim on Twitter: @IbrahimAlAssil
Publications: