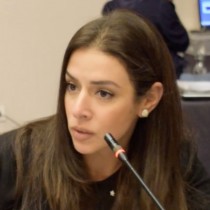 Sarah El Battouty is a non-resident scholar at MEI. She is an award-winning architect with 18 years' experience in the field of green and environmental building. Sarah is the founder of one of Egypt's leading environmental design and auditing companies, ECOnsult, which has carried out the most certified energy-saving projects in Egypt. Her design work spans from Egypt and Italy to China and focuses on partnering with the private sector and government to implement green projects.
In 2014 Sarah was appointed as a senior advisor to the Egyptian president focusing on sustainable community development. She has worked on several projects with the presidency that have been adopted by the government, including the introduction of energy- and water-saving awareness programs in the media and education system as well the creation of a youth leadership program to empower youth to participate in the political process. Her focus has been Egypt's environmental policy which culminated in the successful ratification by Egypt of the Paris Climate Agreement and embarking on a nationwide program for energy-saving as well as water-scarcity awareness. Sarah represents Egypt as an official in a variety of lectures and summits focusing on climate, housing, and national security.
In addition she is co-chair of the Corporate Impact & Sustainability Committee at the American Chamber, a member of the Advisory Boards for the American University in Cairo (AUC) Architecture School and the AUC School of Business, co-author of Egypt's Tarsheed Rating System for Green Building, and is on the Board of the Sustainability Committee of the Egyptian Stock Exchange. Her focus is to raise awareness on resource management and environmental economics to create sustainable communities for Egypt's growing population as well as regional climate challenges. Sarah was also recognized by the government in 2018 as a national expert and leader for her service to this field for training the intelligence community and military as well as assisting in training programs for the government on the UN Sustainable Development Goals. She recently founded a new start-up for recycling waste into eco-furniture called MuBun.
Education:
Bachelor's Degree from University of Cambridge, UK in Architecture
Master's Degree from School of African & Oriental Studies SOAS, UK in Sustainable Development and Project Management
Centre of Environment Development and Economic Policy Degree in Rural Project Management
Countries/Regions of Expertise:
Egypt

Publications: