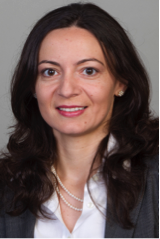 Since 2011, Georgeta Auktor is Senior Researcher at the German Development Institute in Bonn, in the department of Sustainable Economic and Social Development. From 2008 to 2011 she was Assistant Professor at Masdar Institute of Science and Technology in Abu Dhabi. In 2013 she was Guest Lecturer at the Cologne University of Applied Sciences' Institute for Technology and Resource Management in the Tropics and Subtropics. From 2014 to 2017, Georgeta Auktor was Professor ad interim in the Institute of Economics at the University of Erlangen-Nuremberg.
Her research and teaching focuses on issues of green growth, industrial policy and private sector development, innovation systems and policy, technology and science policy, renewable energy and strategy in developing and emerging countries, development cooperation and international trade.
Georgeta Auktor earned her doctorate in International Development and Regional Planning in 2008 from Massachusetts Institute of Technology (MIT) in Cambridge, United States. She holds a Masters degree in Urban and Regional Planning from MIT and in Applied Sociology from University of Massachusetts Boston. In 2008 she received the Gill/Chin Lim award for the best doctoral dissertation in International Planning from the American Association of Collegiate Schools of Planning and the Outstanding Doctoral Dissertation Award from MIT.