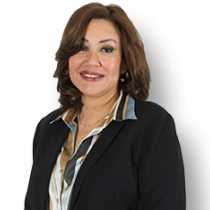 Dr. Abla Abdel Latif is currently the Chairwoman of the Presidential Advisory Council for Economic Development; a Member of the Central Bank of Egypt's Coordinating Council, and Board Member of the National Bank of Egypt – the first female in this position.

In 2013, she was honored with membership of the Committee of Fifty, whose mission was to draft Egypt's Constitution following June 30, 2013. In that capacity, she was officially representing the Egyptian Federation of Industries, and one of only five women in the Committee. She is also a cofounder and Board Member of BASEERA (the Egyptian Center for Public Opinion Research), and "El Nidaa" Foundation for job creation for women and youth.

In addition to her teaching career as Professor of Economics at the American University in Cairo (AUC) for over twenty years, she has been a Research Fellow at the Economic Research Forum (ERF) and has authored a large number of publications in class A internationally refereed Journals. She has also been a senior international expert in several UNIDO projects and other international organizations. Her professional experience is also extensive, starting from being the Policy Unit Manager in the Industrial Modernisation Centre (IMC) to being the Minister of Industry's Advisor shortly after the 25th of January Revolution and up to a year ago when she became the main economic advisor to the President of the Republic.

Dr. Abla received a special award for outstanding achievement and excellence in research from Sussex University in the UK and another faculty excellence teaching award from the American University in Cairo. She is an Egyptian national with a B.A. in economics from the American University in Cairo (AUC) (with highest honors) and an M.A. and Ph.D. in economics from the University of Southern California in Los Angeles, California.
Publications: