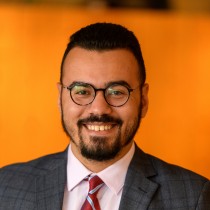 Mohammed Soliman is a Non-Resident Scholar with the Middle East Institute's Cyber Program. His work focuses on the intersection of technology, geopolitics, and business in the Middle East and North Africa (MENA), and his extensive, cross-sectoral network throughout the region informs his analysis. Previously, he worked as an analyst and columnist for Tahrir News, al-Maqal, and al-Masry al-Youm in Egypt.
A native of Cairo, Egypt, Mohammed earned his Master of Science in Foreign Service with distinction from Georgetown University in 2019 and an honors certificate from the Institute for the Study of Diplomacy in International Diplomacy. While at Georgetown, he chaired the Georgetown MENA Forum, where he hosted policy practitioners, diplomats, and academics to discuss the region's key trends and challenges.
Mohammed was a Huffington Fellow at the Institute for the Study of Diplomacy, where he researched and wrote a thesis on "How the Gulf Crisis Complicates the US Iran Strategy." He was also a Junior Centennial Fellow at the School of Foreign Service, through which he helped research and manage the logistics of a future publication on the experiences of former president of Liberia, Ellen Johnson Sirleaf. During his graduate studies, Mohammed worked in Washington, DC with the Peace Tech Lab at the U.S. Institute of Peace to conduct risk assessments on the MENA and South Asia regions using open-source intelligence.
Mohammed appears frequently on Arabic-language television to provide commentary on unfolding events in the Middle East and has published articles for Foreign Affairs, Daily News Egypt, La Stampa, the Middle East Institute, the Washington Institute for Near East Policy, and Open Democracy. He has been quoted in a variety of media outlets, including AFP, Daily News Egypt, France 24, LA Times, Public Radio International, The Economist, The Media Line, The Tribune-Review, The Washington Times, and USA Today.
Mohammed is a 2017 recipient of the Open Society Foundation's Civil Society Leadership Award (CSLA) due to his exceptional commitment to working in the field of public activism.
Follow Mohammed on Twitter: https://twitter.com/soliman91
https://www.mei.edu/experts/mohammed-soliman
Publications: